Overview
User access to DESelect Segment is managed by the standard Salesforce Marketing Cloud Installed Package licensing functionality. Once a user has been given access to the DESelect Segment Installed Package, (s)he can open DESelect Segment via the AppExchange menu. No additional setup is required in DESelect Segment.
Inside DESelect Segment, administrators have the permission to manage the user licenses by navigating the Admin Panel > Users.
Salesforce Marketing Cloud > Set Up
Go to the DESelect Segment Installed Package via Setup > Platform Tools > Apps > Installed Packages > DESelect Segment

Click on the Access tab to enable/disable access per user/business unit

Save the changes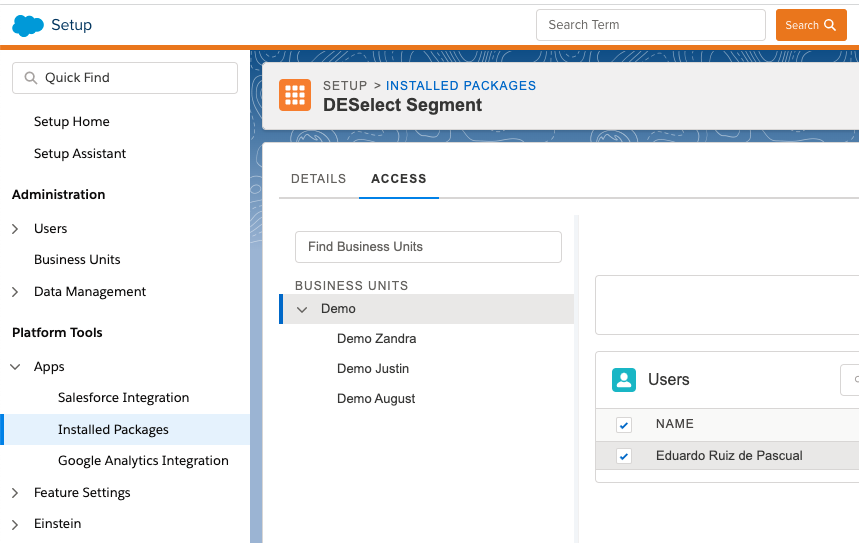 Important note: During the Setup step in SFMC, you will be able to give DESelect Segment access to as many users as you wish. However, if your license amount is limited to a lower number than the selected users in SFMC (let's say only 5 licenses were purchased and you granted access to 10 users), the first 5 users that will access DESelect Segment will be able to enter DESelect Segment.
Once the users have attempted to access DESelect Segment, it is possible to reassign the licenses to the desired users in the Admin Panel as we'll explain in this article.
Access DESelect Segment
Refresh the page

Go to AppExchange menu and click on DESelect Segment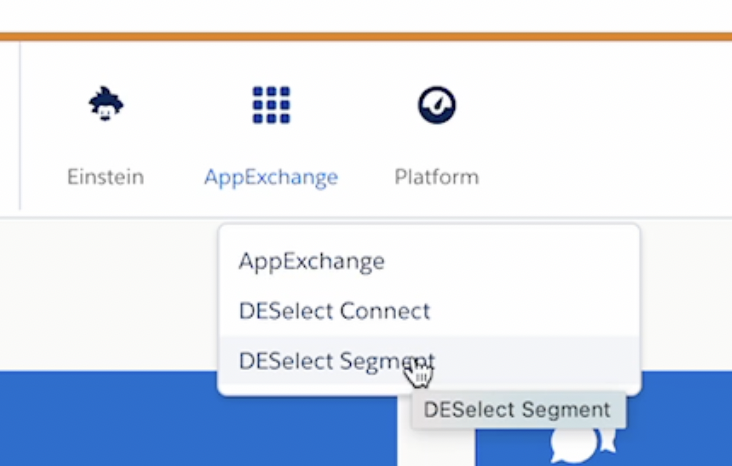 Once these users have accessed DESelect Segment for the first time, they will automatically appear in DESelect, under Admin Panel > Users.
Please note that:
If there are available licenses for your organisation, the users will be set as Active and get access automatically.

If there are not enough available user licenses, the users will get a warning message saying that (s)he needs to reach out to their administrator.

Admin Panel > Users
From the Admin Panel, administrators have the permission to set any user as Active/Inactive or give a user administrative rights.

Keep in mind that you can have as many active users as licenses you have acquired. Please note that, if you have a DESelect user for support purposes, it won't count as a consumed license.

To change the parameters of a user, click on the user's name and tick the checkboxes needed.

Important Note: It's not possible to create users/ edit usernames or passwords from the Admin Panel; it needs to be done on SFMC's Set Up page (when having the right permissions to do so).
Transferring of user licenses
Inactivate a user in DESelect Segment from the Admin Panel > Users, to ensure there is one available license to assign to the desired user.

Make sure the new user you want to activate is enabled in SFMC > Set Up.

Ask the new user to access DESelect Segment. Now the new user will appear as active in the Admin Panel > Users.
Related Articles:
Salesforce documentation on assigning users access to Installed Packages
How is the number of active users licenses used calculator?
Enable DESelect Segment in new Business Units