Available in DESelect Segment Enable, DESelect Segment Plus and DESelect Segment Advanced.
As an admin, you can set up the email addresses or shared mailboxes where you want to receive notifications of:
Error emails of Scheduled Selections fail

Warning emails of Scheduled Selections returning 0 records

If no setting is provided, only the creator of the Selection will receive the notifications.
Scenario
The marketing team of a retail organisation works together on several campaigns [using DESelect Segment]. They all want to be aware of error notifications in DESelect Segment, so every single error is being worked on in case the creator of the scheduled Selection failing is out of office.
How can you do this - step by step:
Access the Admin Panel > Settings > Notification Settings

Enter the email address/es where you would like to receive the error notifications

Click

Add - and the email address/es will appear under that box
Important to know
There is no limitation on the number of email addresses you can add

You can add multiple emails at the same time by separating them with a comma (example: email1@test.com

,

email2@test.com)

These added users will be notified by email in bcc

In order to remove an email address from the list, you simply need to click on the cross icon on the tag, and the pop-up below will appear, click

Remove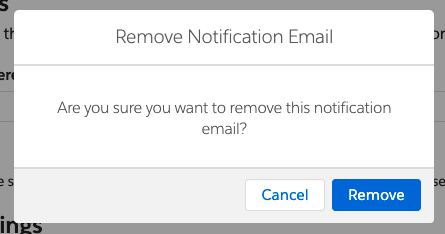 Related Articles: