Available in: DESelect Segment Enable, DESelect Segment Plus, DESelect Segment Advanced
Yes. DESelect Segment has a feature allowing administrators to include and exclude folders in a certain Business Unit. This functionality is available in the Data Extension Folders section in the Admin Panel.
Using this feature, DESelect administrators can set what folders will be included (available) or excluded (hidden) in the Available Data Extension section and Target Data Extension section.
Include and Exclude will function as below:
Include: only the Data Extensions in the folders and subfolders selected will be shown.
Exclude: all Data Extensions except the ones in the Data Extensions in the folders and subfolders selected are shown.

Pro tips:
If you have many folders, DESelect Segment recommends using the Include function and checking only the folders where the Data Extensions you and your team will be using. This allows DESelect Segment to only scan the included folders you have selected instead of going through everything in your SFMC environment. With this, your data processing will be faster.
use the expand all or collapse all arrows to expand or collapse all parent folders, child subfolders, grandchild subfolders, etc., respectively to customize your choices as child subfolders are not automatically selected when a parent folder is not expanded.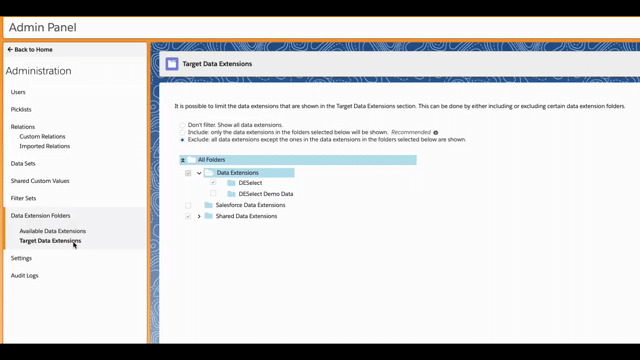 Related Article: