Available in: DESelect Enable, DESelect Plus, DESelect Advanced
Yes, DESelect works with Data Extensions that contain encrypted fields, and this reflects in 3 places.
Available Fields
In the Available Fields sections, encrypted fields will be marked with a lock icon.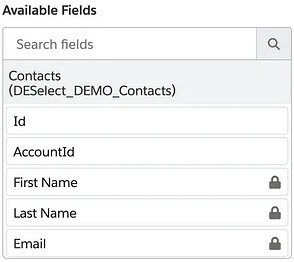 Creating a Target Data Extension
When creating a new target data extension, an additional option appears on newly created fields to mark a field as encrypted.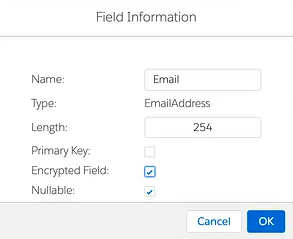 Note that when creating a new field from an existing encrypted field, this new field will also be encrypted.
Preview
When running a preview with encrypted fields, the preview screen in DESelect will show the columns of these encrypted fields not in plain values, but encrypted unreadable values.
You can also read DESelect '21 Release: Viewing SQL Queries, Encrypted fields, and Multibyte characters.