Available in: DESelect Enable, DESelect Plus, DESelect Advanced
It has always been possible to take the Query Activity that DESelect Segment generates and put it in an Automation in Salesforce Marketing Cloud, so it can run at set intervals. However, not all marketers are (or should be) familiar with Automation Studio. Therefore, we have now made it possible to schedule the running of a selection straight from within DESelect Segment.
The user can access this feature by clicking on the scheduling icon on top of the Selection, next to the save button:

Upon accessing the scheduling Selection, a modal pops up and the user can now set the auto-running of the Selection. Switching the toggle allows the user to enable or disable the setting. The user can also choose the timezone in which the Selection is scheduled to run. By default, this will be the user's own timezone. Also, the user can choose between Once and Repeat options.
In case the user needs to automatically run the Selection only once at a specified time and date, then choose the Once option. On the Once tab, the user can define the date and time when the Selection should automatically run.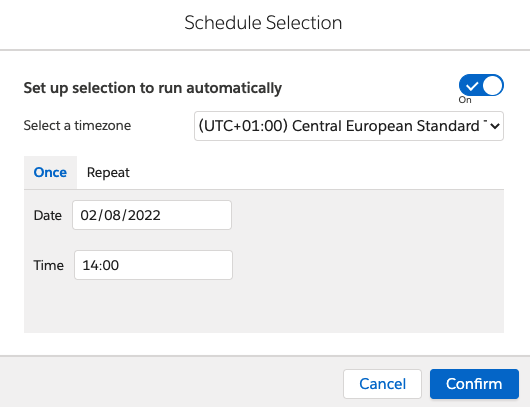 On the other hand, in case the user needs to automatically run the Selection repeatedly or with a certain frequency, then choose the Repeat option. On the Repeat tab, the user can define how frequently the Selection should automatically run. Options for Hourly, Weekly, Daily, and Monthly are all available. In addition, the details of when the next running date and time are also indicated on the modal.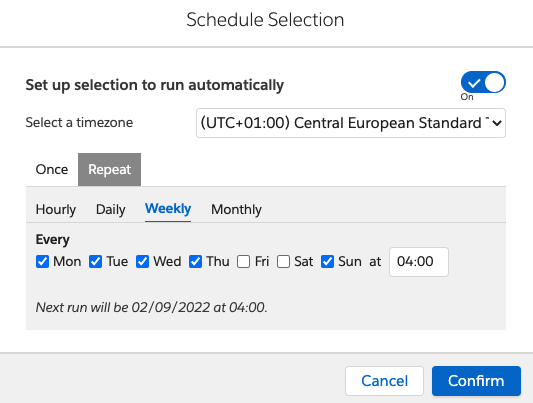 Once the user's Selection is scheduled, the scheduling icon will turn green.

Note: In case that the selection has failed to run, the user will be notified via email.
Contact your Customer Success Manager for this feature arrangement.
Related Articles: