Perform the following steps on the Target Definition screen:
Click the Create Data Extension button.

A modal will appear where you provide the name, description, and location of your Data Extension.

Indicate if your new Data Extension needs to be sendable and/or testable.

Click Save.

Now you can see all the fields from the Selected Data Extensions on the left.

Choose the fields you would like to see in your new Target Data Extension. Select them by:

drag-and-dropping them to the right.

double-clicking on them.
clicking the Add all fields button to add all fields of a selected Data Extension at once.

Fields on the right-hand side will constitute your Target Data Extension.

On the Target Data Extension fields, you can click on the pencil icon and see the details of the field (Field Information). Y

ou can edit: name, length of the field, and indicate if it's a Primary Key and/or Nullable.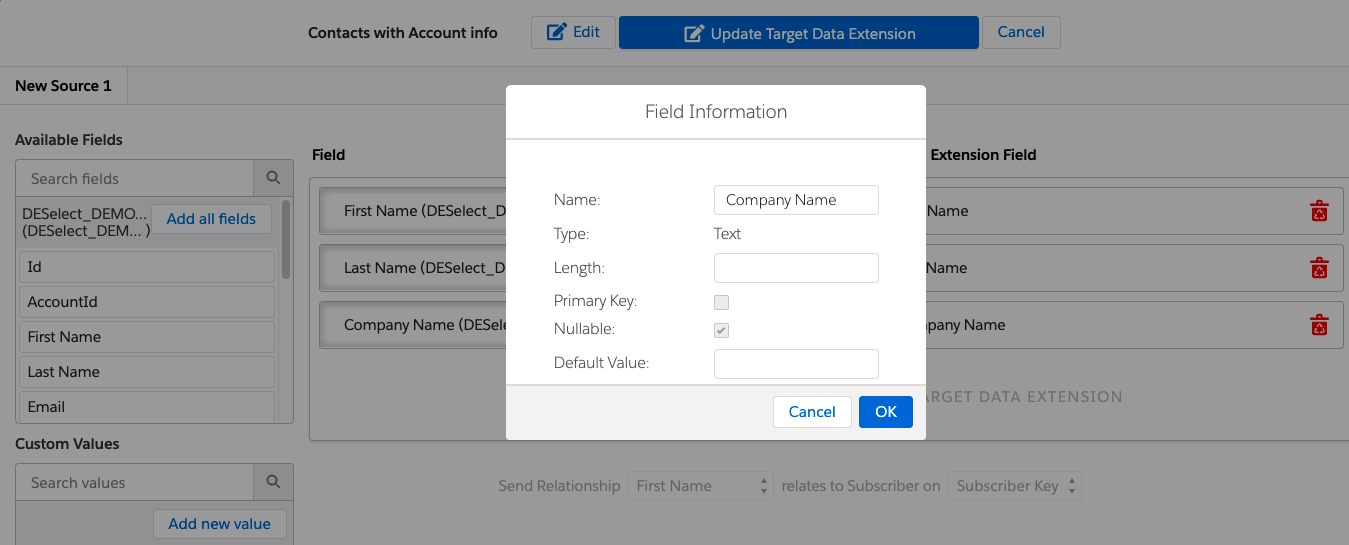 If you are satisfied with your new Data Extension, click Create Data Extension. Alternatively, click Cancel to return to the mapping screen without creating the new Data Extension.
Click Create.
Your new Data Extension is now created in Marketing Cloud and available to use within DESelect Segment to write the results of your Selection.
Note: a mapping has automatically been created as well, so you don't have to worry about that anymore. For example, if you created a Target Data Extension with fields Id and Email from a Contacts Data Extension, the Id field of Contacts will be mapped to the Id field of your new Data Extension, and the same applies to the Email field.