There are a few options to get support if you face any issue with DESelect:
1. Contact our support by sending an email to support@deselect.com.
Take a screenshot of the error or problem you are facing.

Describe the exact steps you took prior to the error as detailed as possible.

Describe what you were trying to achieve.
2. Directly go to our support portal, or access it through our website in the footer click on 'Support Portal', or access it in-app at the bottom-right of the Overview of Selections > ? icon > 'Contact Support'.
Click on 'Submit a request'.

Fill out the form.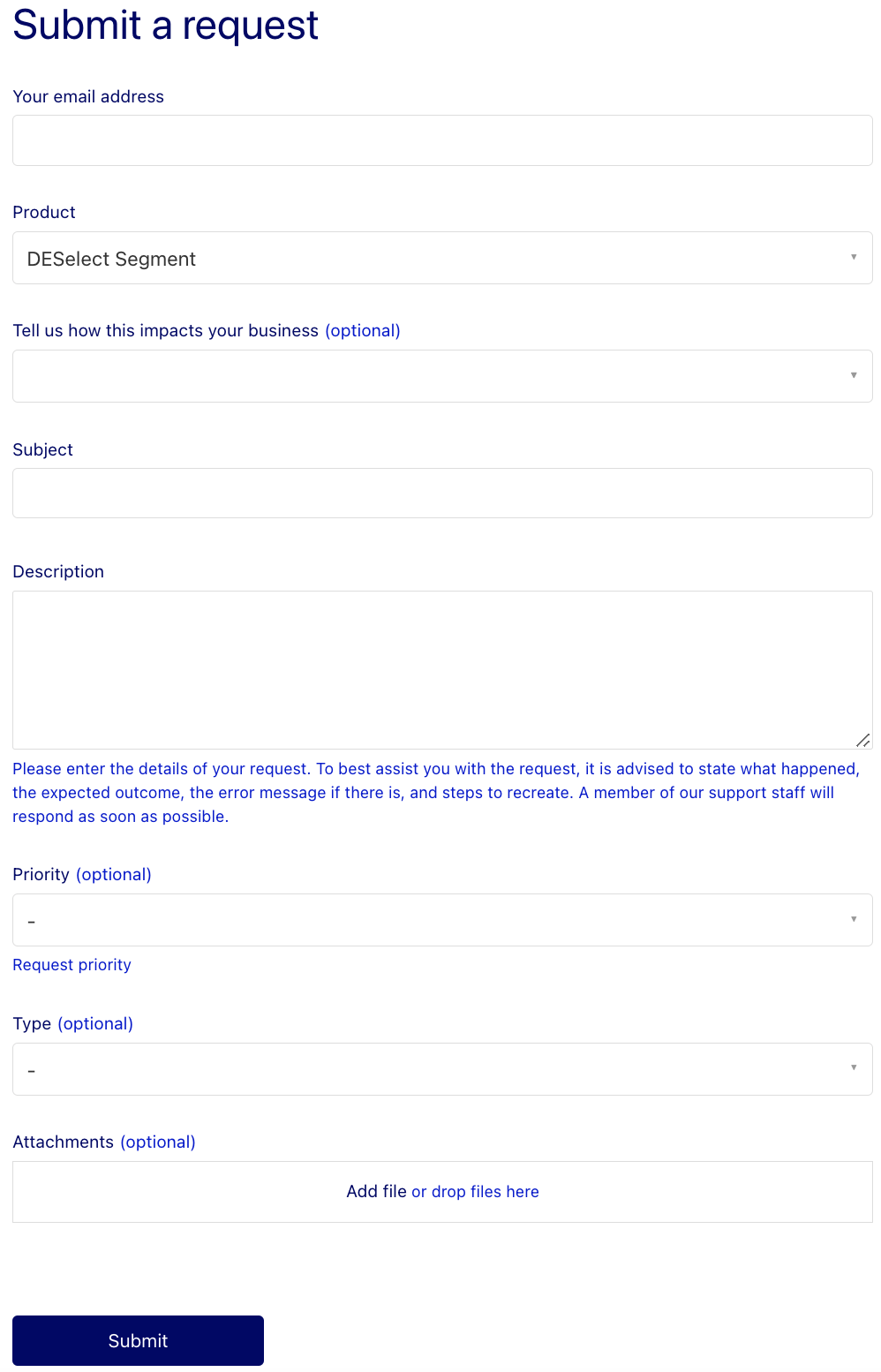 Note: Depending on your case, you might want to choose the 'Type' of Support ticket you are reporting based on below:
Type of Support ticket
Description

Questions

Inquiries about Selections or how functionalities work

Bugs

Functionality not working as expected while working with DESelect

Questions about run error messages or other issues encountered related to SFMC that can affect DESelect

Improvement requests

Improvement ideas (This can also be raised directly in-app: Resource Center > Share your Feedback)
Note: To identify if your error is caused by DESelect or SFMC, refer to this article.
It is highly recommended to include any screenshots that you have encountered in the 'Attachments' of the form.
The support team will look into your case as soon as possible.
Logging cases via phone is not supported, though it may be possible a support agent will ask you to jump on a video call to resolve the issue.
Note: It is possible that during an error you get to see a "Report Issue" button. Feel free to click this and provide an explanation in the form that pops up. This will be sent immediately to our support team and can help us investigate!

Related Article: