Behavioral Filter Sets are an out-of-the-box (OOTB) filter collection available in DESelect to help you get the most out of the interaction of your customers with your previous communications such as did they open an email, what specific link was clicked, did a communication bounce, to name a few.
Behavioral data stored in Data Views are extremely valuable for customers to create more targeted segmentations and deploy basic saturation control. Filtering on behavioral data can be easily achieved using Data Views, though that requires that users are familiar with them, as well as their structure. The most common use cases are available in the OOTB filter collection.
How to locate Behavioral Filters
As soon as one DE is dragged into the Selected Data Extensions area, clicking on the Filter Sets tab in the Available Filters section will show these Behavioral Filters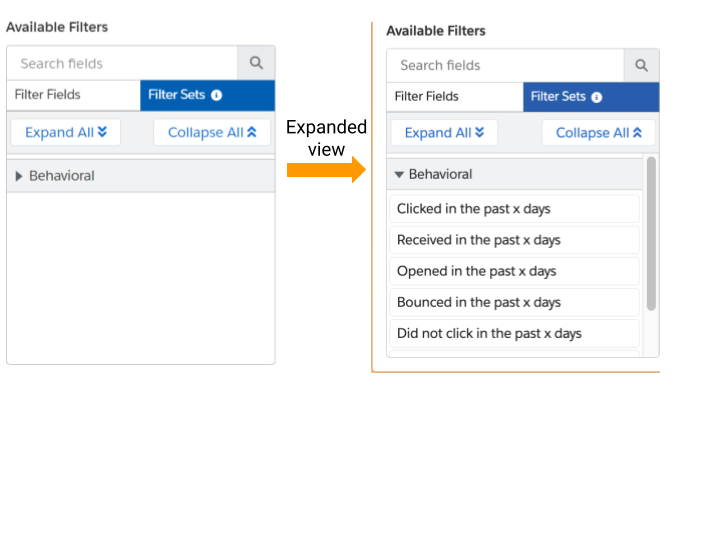 How to use a Behavioral Filter
Once the Behavioral Filters are expanded, select the filter of your choice and drag it to the Filters section. There are 2 steps needed to customize this filter to your needs:
Set the required relationship between the DE and Data View
Set the number of days
Step 1:
After dragging and dropping one of the desired behavioral Filter Sets in the Filters section, a modal wizard should show up to help users set up the relation between the Selected Data Extensions and the Data View of the filter to be created.
Select which available Source Data Extension you would like to relate to the Data View
Select the field from this DE to relate to either the Subscriber Key or SubscriberId
Select either the Subscriber Key or SubscriberId
Click on Continue
Once completed, the new filter should be added to the Filters section of the Selection
Step 2:
Set the required number of days* by clicking on the green Filter icon. A filter modal pops up allowing you to:
Change the number of days from 1 to whatever number is needed
Optionally, change the time unit. Data Views only contain data up to 6 months ago
Click on SAVE when done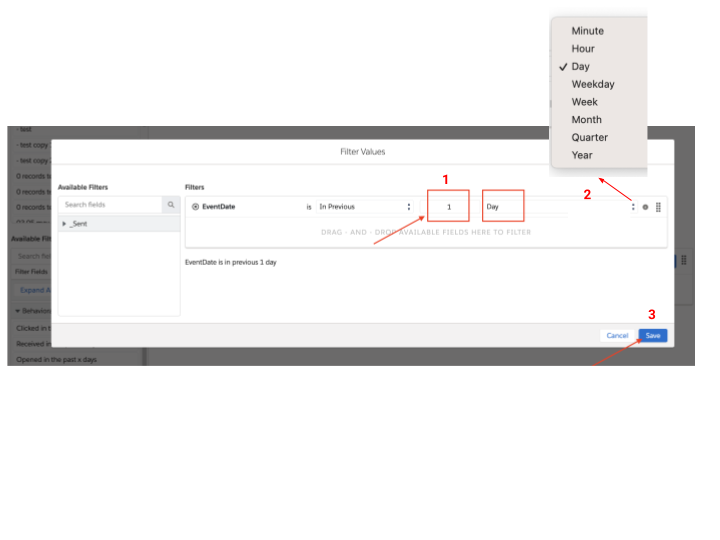 You can drag as many Behavioral Filters as needed to create more targeted segmentations and implement (under) saturation control.
Related Articles:
What do you need to know to work with Data Views in SFMC?
Can I predefine a set of Filters to use recurrently?