Yes, this is possible by using Shared Custom Values.
What are Shared Custom Values?
In addition to the Standard Custom Values, Administrators can also configure Shared Custom Values in the Admin Panel. These Shared Custom Values will then be available to use by all DESelect Segment users in the Selection of their choice within the Business Unit.
Shared Custom Value can serve as a predefined version of a Custom Value that will surely speed your work up, as it is reusable within any Selection.

When is it recommended to use Shared Custom Values?
It is recommended to make use of Shared Custom Values when:
You often need to use a Custom Value with the same, or a similar structure

You would like to have a Custom Value saved as a template due to its complexity with a high chance this will be reused more than once

You are an Administrator who wants to predefine Shared Custom Values, making them ready-to-use for your team
How to create a Shared Custom Value?
Go to the Admin Panel > Shared Custom Values > click on

New Shared Custom Value

button

Define the Shared Custom Value by providing name and description

Select the type of Custom Value you need. This can be any type of Custom Value (Fixed, Dynamic, Formulas or Aggregations)

Click on

Define Value
Start building your Custom Value
Note: Only the Fixed Value and Timestamp Custom Values will be visible inside all Selections. All other Shared Custom Values will only be shown when the corresponding Data Extension is added in the Selection
6. Click Save
How to use a Shared Custom Value in any Selection?
Create a new Selection

In Selection Criteria - make sure you add the Data Extension corresponding to the Shared Data Extension, unless this is a Fixed or Timestamp one, which will be available to use in every single Selection

Go to Target Definition step > Custom Values > click on

Shared Custom Values

Select the desired Shared Custom Value
Note: By hovering over the Shared Custom Value you can see its description/ instructions left by the Admin for all the users
View icon: by clicking on the eye icon, you'll be able to see the structure of your Shared Custom Value before using it.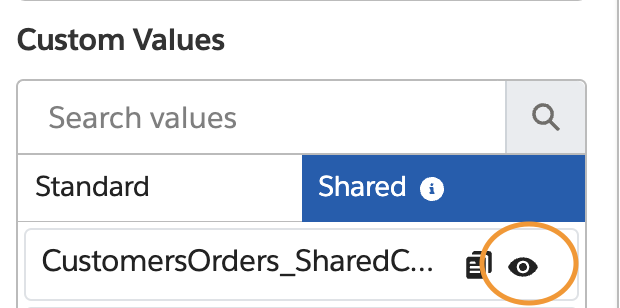 5. In this step you have 2 options:
Use the Shared Custom Value directly by dragging and dropping this into the Target DE.
Note: if any changes are made in the Shared Custom Value in the Admin Panel at any time - this will impact all the Selections the Shared Custom Value is being used in.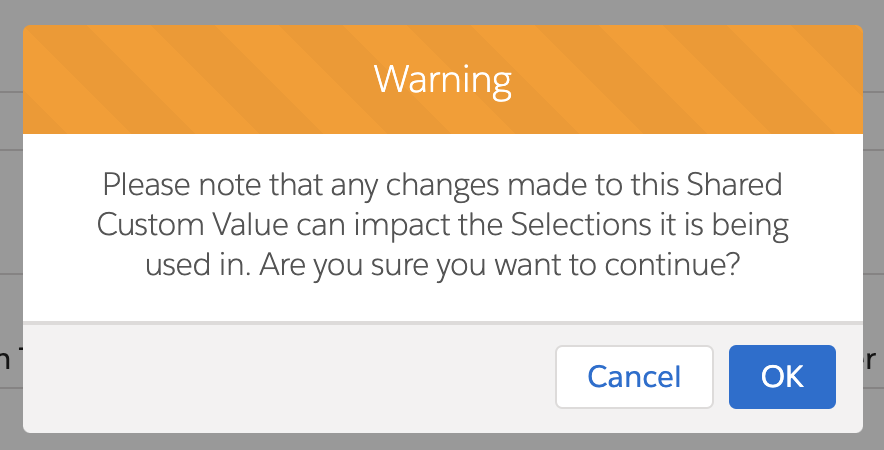 Copy the Shared Custom Value first, and only after that, use the copied version to drag and drop into the Target DE
DESelect's recommendation is to copy the Shared Custom Value first.
6. Save changes on Target DE